Getting my hands on new (at least to me) books always seems to add a little skip to my step and yes, a smile to my face. There is something so exciting about the prospect of what is inside those crisp, new book covers and when those books are crafty books, let's just say the excitement is even all the more! At least that is the case for me!
Yesterday
Zoey
and I spent the afternoon at the library. We always seem to make a haul each trip and this visit I was
doubly
excited because I knew that I had some books in that I had requested from outside our local library system (gotta love this resource!). Here is some of what is keeping me busy...and I think it is safe to say that I am venturing outside of my
paper only
idea of craftiness! I am contemplating the thought anyways...
Little Stitches for Little Ones by Amy Butler
I
absolutely
LOVE
Amy Butler's
fabric designs and her projects are right up there as well. Illustrations in this book are simply stunning and patterns are included within the book. Very nice.
Sew & Stow by Betty Oppenheimer
This book has so many amazing projects in it that I totally think I can actually make. I also am extremely impressed with the authors instructions and explanations when it comes to techniques for sewing. She includes step by step instructions for basic stitching and more complex stitching (simple, straight lock stitch, machine stitch, hand stitching, stitching around corners,
back stitching
, slip stitch, top stitching, box stitching and more). Tons of information on seams, stitching around corners (something that has terrified me before reading this book!), mitering corners, gathers, pleats and more. I think the reason that I am so excited about this book is that it is the first time that I've read a book on sewing and after reading the instructions and viewing the photos, I actually have the thought that it is possible that I could do this! Seriously am excited about this book...if I think I can miter corners after reading just a page or two, than just think what is possible after reading the entire book! This is a book that I am thinking will be added to my list of "books to purchase" as it would be a great reference tool as well as a wonderful project guide. Just one more thing that I love about the book is that the author leaves the creative design up to the reader...and she does this on purpose. Something that I fully appreciate!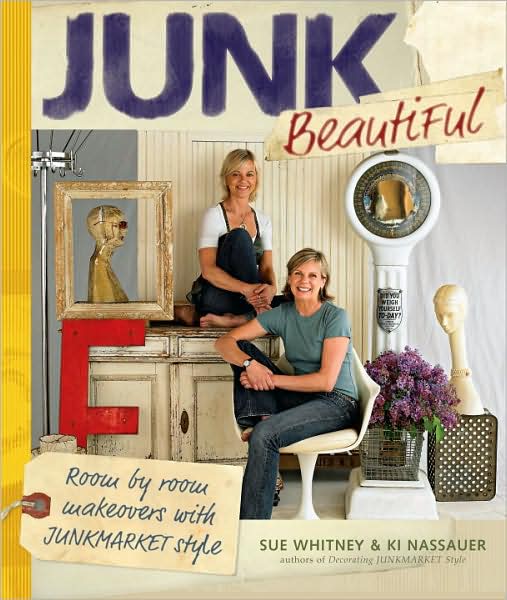 Junk Beautiful by Sue Whitney and KI

Nassauer
I picked up this one just for the sheer fact that I love old stuff and I love "junking" and it's always a treat to get a new twist on what someone has done with something old that was found.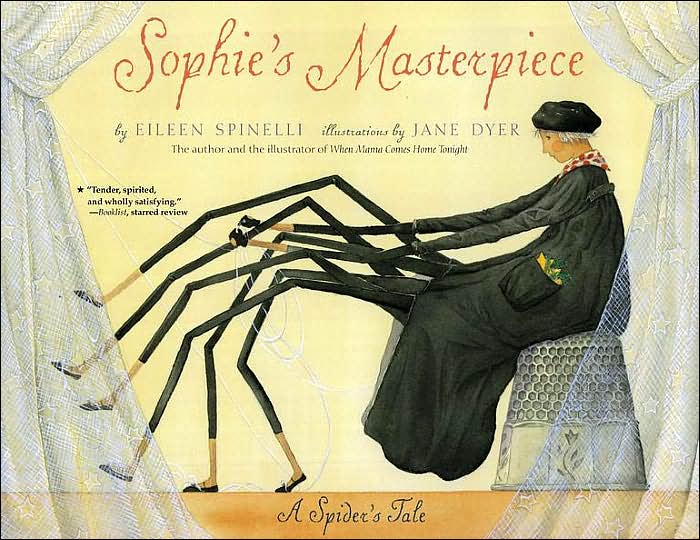 Sophie's Masterpiece - A Spider's Tale by

Eileene

Spinelli
And lastly, I have to share a gem that
Zoey
and I discovered while selecting books in the children's section. I love it when we bring home a big stack and are pleasantly
surprised
with one story that's just a tad bit more magical than the others. The story of Sophie (an artist of many talents) is so touching and magical I can hardly share more in fear that I would not give the book justice. It leaves the reader just a bit wistful and with a heart that is longing. I love that the author was inspired to write this book due to a real-life experience that she had when she was young and living in a boarding house (Sophie the spider lives in a boarding house as well). Here is the publisher's excerpt taken from the jacket of the book:
Sophie's no ordinary house spider. She's an artist; and every web she spins is more

wondrous

than the one before. But don't mention that to the guests at

Beekman's

Boardinghouse

, because they don't like spiders. No one there wants anything to do with Sophie or her

magnificent

creations - no one except the woman on the third floor. She's a new mother "weaving" something herself; and

when she

runs out of yarn, Sophie knows the time has come to create the

masterpiece

of a lifetime.
Happy reading everyone! I know that it will be the perfect weekend for that here...cooooooold!