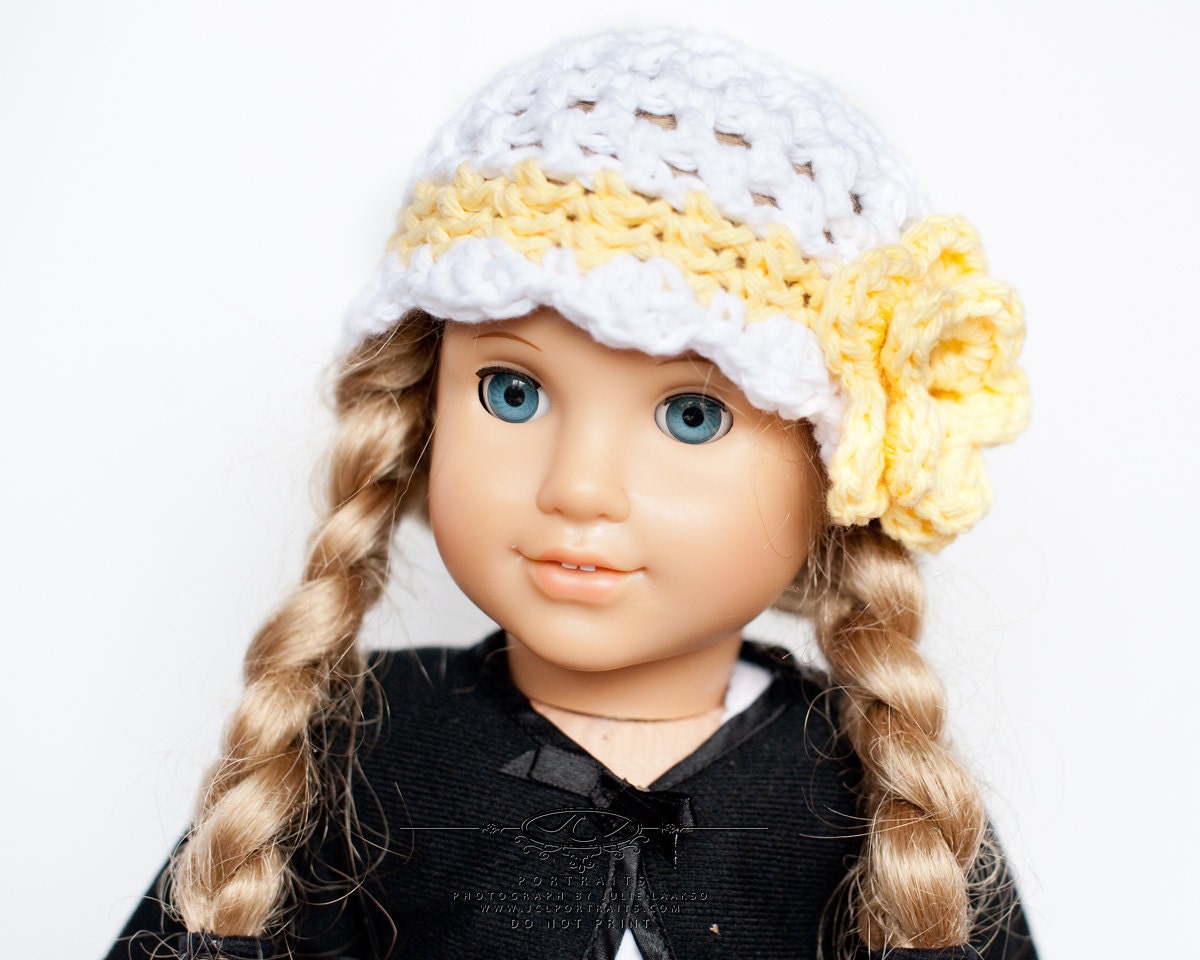 Around here lately we've been playing with dolls. We've been dressing them, styling their hair, teaching them at "school" and baking with them in the kitchen. We've been having tea parties with them and reading to them. Snuggling with them and giving them stroller rides around the house. Zoey LOVES her dolls and I have to admit that I am loving them too. It is so much fun to have an excuse to play with them! One thing that I've noticed now too is that since she's slowly getting more "playsets" and outfits (little things like cookie cutters and school things) the actual play is getting more involved. I've been searching out some clothing and accessory options for her dolls other than the American Girl website (which we love but everything can't be the AG brand due to the price, and heck, it's fun to have handmade besides). I thought I'd share with you some of my favorite finds.
For some adorable handmade sweaters and hats be sure to check out the Etsy shop
LoveMyYarn
. She will even make your daughter and doll matching hats...and they are beautiful, check out the one pictured above to see what I mean!
Another clothing store on Etsy that I found and liked was
123MulberryStreet
. I found a Valentine outfit that is quite similar to one that Zoey has for herself here so I snatched it up so she can have a "matching" outfit. I'm thinking that might make for a cute little gift item for Valentine's day? Check out her shop for more cute things, she has a very nice selection.
For some special treats for your tea parties (when you aren't actually feeling up to baking mini delicacies of your own) I found some adorable and real life-like looking cookies at the Etsy shop
Pippaloo
. These are the treats that I purchased for Zoey and they come with the silver tray as well.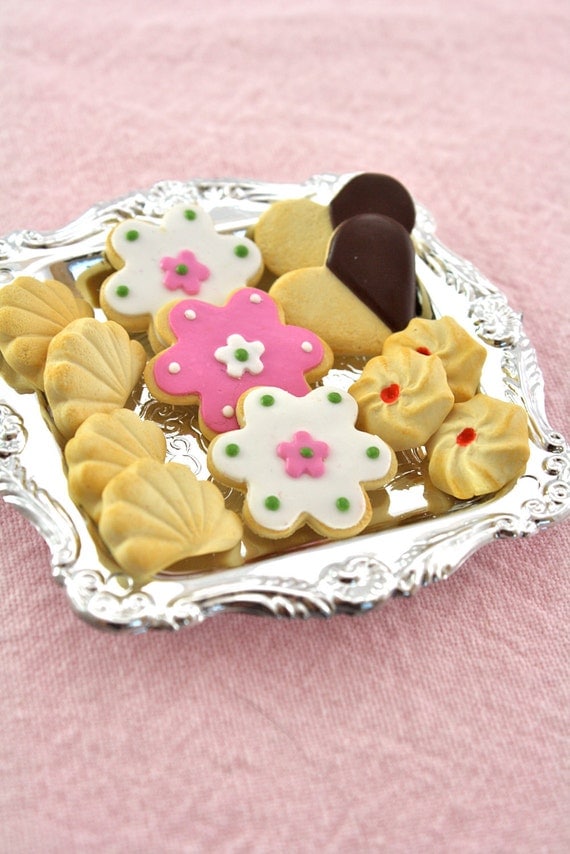 I just visited her site just now and see that she has some yummy Valentine treats in her shop as well. Check these out!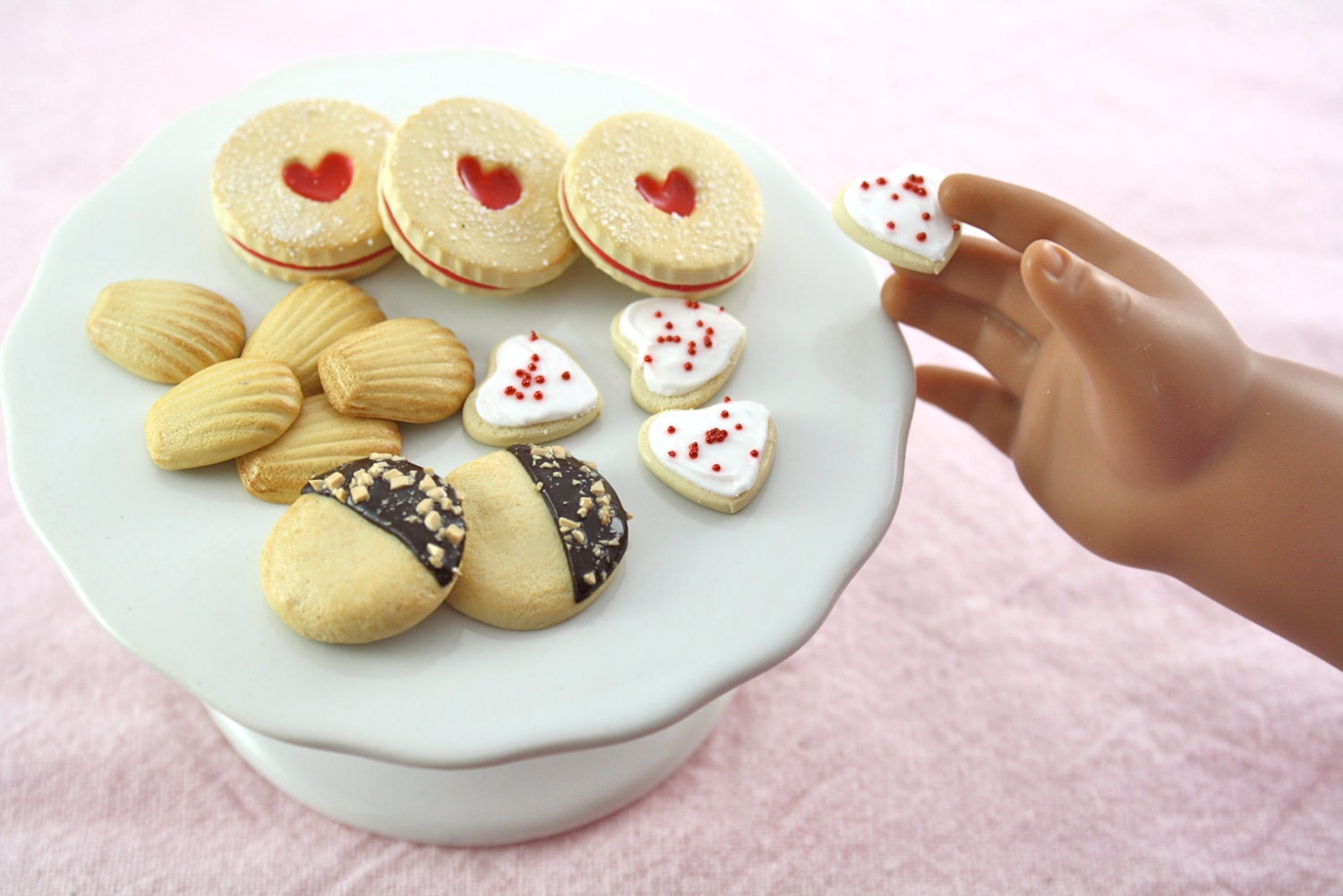 For tea parties a small doll sized tea set is a must and since Zoey loves fairies as much as she loves dolls I did a search for a fairy tea set for dolls and came across this one by
Schilling
.
And lastly, I'm sharing something that's on our AG wish list as it's a bit pricey but nice all the same. Maybe a future birthday gift? The
Party Set for Kit
.
Isn't it sweet? I love that it comes with linens and flatware as well as the dishes. The pink glass is just precious and yes, I am completely aware that I'm calling silverware for dolls, flatware. I realize that I'm insane! But it's a good thing right? I'm sure that Zoey thinks so!